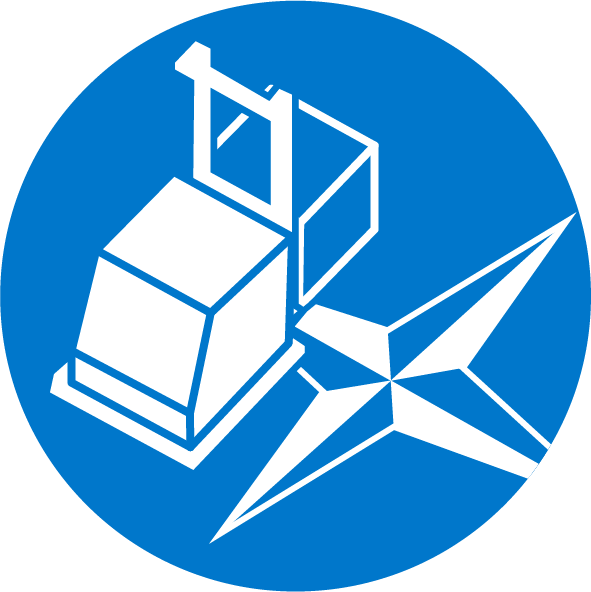 What is
Atlas OmniPlace?
Atlas OmniPlace is a IT solution that monitors the movements of forklifts by way of computer vision and follows the flow of palettes precisely without scanning source and destination locations. The system knows the 3D position of each and every palette in the warehouse and directs the forklift operator to the right location.
The accurate detection of the location of warehoused material ensures that there is no inefficient driving of forklifts to and for searching particular material, thus optimising the process and increasing operational safety.
Always at the right place
at the right time
The operation of the system is simple, yet very accurate. A camera attached to the forklift follows the labels or markings on the floor that roughly determine the location. By following random outlines, the system can trace the forklift's path with high accuracy. The sensor built into the forks determines whether there is a palette on the forklift or not, while the lifting sensor detects the height to which the palette is dropped and the place where it is picked up.
In the case that the use of labels is not sufficient (e.g., in an open–type warehouse), the camera system can be supplemented with a GPS system.
A special optional packageenables the orientation of the forklift operator through the material maze, and thus prevents the forklifts from crossing paths ("collision detection warning").
Main benefits of
Atlas OmniPlace
Automatic identification
of warehousing location, forklifts and goods.
3D real–time
visualisation and navigation of forklifts.
Flexible use
for all warehouse types and forklift sizes.
Simple
installation and startup.
Inter–operability
with various systems Low maintenance costs.
Optimum coordination and management of forklifts
Benefits
for clients
Flexibility of warehousing locations
Optimisation of warehousing capabilities and optimum utilisation of forklifts
Error–free ship–in or ship–out of goods in the warehouse
Shorter time required for tracing goods
Analyses/statistics on utilisation of locations, forklifts, paths, etc.
Greater (operational) safety at work
We believe in the 
power of cooperation
We are writing excellent partner stories with engineering companies, as well. Original IT solutions for internal logistics, a dedicated team, reliability and many years of experience can become part of your integrated offer, too.