Consulting
Are you wondering whether your current IT system for warehouse management can still adapt to all changed operating conditions?
Does it successfully follow the increased scope of operations? Are you perhaps opening a new warehouse or renovating the logistics processes?

With the overwhelming number of WMS system providers the choice of the right one might prove to be a major professional and business challenge. With more than 25 years experience in the field of consulting and implementation of WMS systems, Epilog offers assistance and advice when you are looking for the right solutions. We can help you to find and develop answers to the changing and ever more complex logistics challenges.
Customer–tailored solution

We approach your problem from several angles. We might focus on a rather narrow and specific logistics challenge (i.e., receipt in line with EAN 128, based on electronic receipt notification, etc.), or we might conduct a broader, integrated analysis of your logistics processes.

But regardless of the project scope, our goal is always to offer the client an optimal tailored solution!
Step by step towards the right solutions
During our first visit we listen to the presentation of your business and logistics processes, and any potential challenges that you may face. We are also interested in your requirements and possible limitations.
Based on the findings gathered we then prepare a presentation whereby we assess the project scope, identify the main challenges or project targets, and outline the direction of a solution.
We are aware of the fact that partnership relationships and trust, two of the key elements of successful cooperation, are generated gradually, step by step. The initial visit and presentation are thus free of charge. In this way, you can judge for yourself whether our view of the problem area and the way we work are appropriate for you, and whether we are the right men and women for the job.
After the presentation, we assemble a heterogeneous project group composed of your key users in the field of logistics and IT, and our experts.
In joint workshops we review and assess the current processes and technology used
This is followed by our drafting of an analysis that usually encompasses:
necessary corrective measures in organisation,
necessary modifications of the ERP system, and
specification of functions of the new WMS system.
If you want, we can even help you to select the right WMS system provider. In the phases that follow we can assume control over its implementation.

Typical benefits serving our clients

The project is implemented in the set financial framework and timeline.
Due to an accurate specification made in advance, the project is kept within the set scope of functionalities.
Transfer to the new system is seamless due to good planning (in the transitional period there are no standstills in supplies and services to customers).
Optimised processes ensure easier handling and management, and lower costs.
Transparent processes enable quicker and easier adaptation to market trends.
Due to the objective view of the consultant "from above", the solution is optimal for the entire company.

We are target–oriented

In Epilog, we are aware of the fact that consulting is much more than merely giving advice. For us, consulting means that we help you to achieve your targets!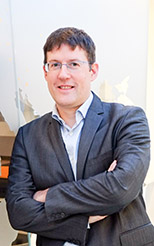 Gregor Jeromen, WMS - System Consultant
Would you like to find out more?
For additional information call our sales department, T: +386 1 583 8017, or send an email: Epilog's sales department !