Epilog receives door–opening award
24. 04. 2015
On Thursday 23 April 2015, the Slovenian-German Chamber of Commerce and the Embassy of the Federal Republic of Germany in Slovenia granted the German Economy Award to Epilog. 
The award, which recognises the most important technical, entrepreneurial and intellectual innovations of companies in Slovenia, was granted for the third consecutive time. Despite a great deal of competition between Slovenian companies that do business in Germany, the selection jury decided unanimously to give the award to Epilog, stating that "the German economy is based on small and medium-sized companies, as well as family-run companies". Receiving the laurel was the result of more than 90% exports and an innovative product that actually upgrades global trends.
"For us, the German Economy Award is the ultimate reference", said Damjan Širca on receiving the award, underlining the fact that, in business, references are of paramount importance in acquiring new orders. According to Širca, German references are the most valued and appreciated everywhere, as German clients are regarded as being the most demanding. "We see this award as an incentive to work even better in the future. We hope that it will open more new doors for us, not only in Germany, but also in other markets", added Širca.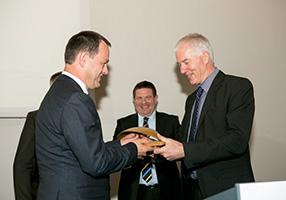 Back