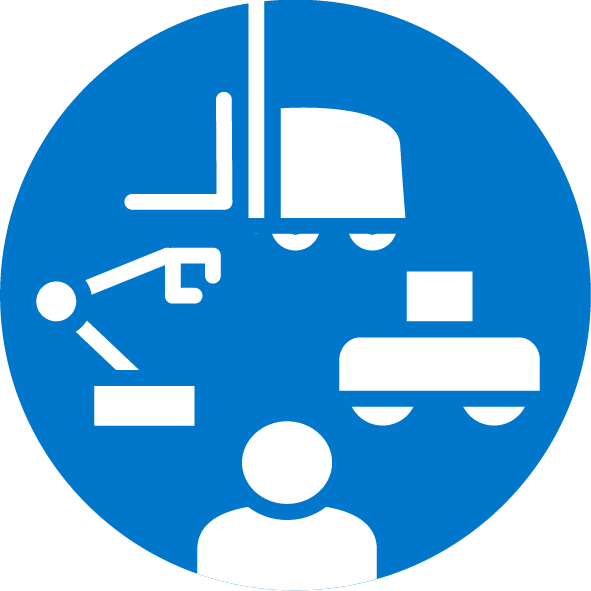 What is
Atlas WCS?
Atlas WCS (Warehouse Control System) is an IT solution for the control and optimisation of internal material flow. It coordinates automatic transport devices, such as high–rack lifts, conveyor belts, automated guided vehicles (AGV), robots and other devices, and also issue goods movement orders to forklift drivers or workers.
Better flow,
higher availability
It works as a central software module that, on the one hand, connects ERP, PPS (Production Planning System) or WMS (Warehouse Management System), and, on the other, automated devices, while also directing forklift drivers where to go (navigation).
The key funcions of Atlas WCS are:
management of material flow,
efficient use of resources,
uniform control and visualisation of the system.
Main benefits of
Atlas WCS
100%
traceability
Atlas WCS records all system events, with particularly accurate documentation of movement history. This data is required for quick diagnostics, system operation analysis, and statistical forecast of task completion.
Connectivity with devices
of different manufacturers
Atlas WCS enables the integration of diverse subsystems by different manufacturers into a common system, and management and visualisation through a single interface.
Dynamic transport
path selection
A transport order may include parameters causing goods to be rerouted via a specific point rather than arriving at their destination via the optimal route, e.g., in the case of random quality control during the production process, when the congestion of a certain transport path section is over, in order to alleviate a bottleneck, or in the case of the loss of devices.
Considering
priorities
The aim of efficient material flow management is the efficient use of resources. This function evaluates every movement and assigns a priority level to it taking into account rules regarding flow, business rules and transport parameters. Thus, goods/palette/transport units are always where we need them.
System
visualisation
The operator is given an insight into the status of the entire system and the potential to intervene in it. The system predicts instead you. The system thinks ahead in order to ensure the optimal use of resources and transfer of "just–in–time" arrivals to selected destinations.
Load balacings
The module enables the balancing of load with regard to the current load of individual devices, increasing the flow and thus the entire system's capacity.
Palletting
Atlas WCS offers IT support and operation of robots for placing material on pallettes.
Automated
alert system
In the case of a system breakdown, the supervisor receives an alert via e–mail or text message.
Benefits
for clients
Higher flow
and system capacity
Because Atlas WCS balances the burden on devices, all devices are optimally burdened and used to the maximum.
Optimum
system availability
Due to the dynamic selection of transport paths, in the case of congestion of a certain section of a path or a breakdown or maintenance of devices, the system predicts an alternative route (diversion). This substantially increases system availability.
Simple use,
short training time of users, higher productivity
Because WCS combines all devices and subsystems into one common system available via a common interface, its use is very simple and user training time is shorter, which significantly increases productivity.
Expandability
and flexibility
Simple adaptation of the system to new requirements and additional devices.
Analytical
module
Atlas WCS saves all data on completed tasks. Through statistical methods, it can provide a graphic illustration of trends and a detailed analysis of system operation.
Control panel
on mobile devices (Dashboard)
Key data on system operation can be followed via smart phones and tablets.
We believe in the 
power of cooperation
We are writing excellent partner stories with engineering companies, as well. Original IT solutions for internal logistics, a dedicated team, reliability and many years of experience can become part of your integrated offer, too.