A 16.4% reduction in picking paths recorded in the first month
05. 09. 2018
The basic task of warehouse pickers is to pick the right goods on the basis of an order in a warehouse. The greatest challenge, however, is how to select the optimum picking path so that cost and time usage are minimised. 
With a constant increase in number of orders, especially small quantity orders, the selection of picking paths only on the basis of warehouse picker's estimate is a risky business. Various IT tools, such as PathFinder, can improve efficiency in terms of supply response times and minimise costs.  
Calculate the shortest possible path in real time
In larger and more complex high-rack warehouses where the picking frequency is high, the path taken in the picking process greatly affects the efficiency of warehouse pickers. A standard set of data in the code list of locations is made up of the number of the corridor, the number of the row and the height of the racks; however, the ordinary distribution/classification of this information does not ensure that the path taken by warehouse pickers will also be the shortest and fastest.
PathFinder is an Atlas WMS module that calculates the shortest picking path. The picking path is calculated in real time, i.e., selected from the multitude of combinations of all possible paths in a given warehouse, as generated by Atlas WMS with the aid of existing locations and the specific needs of the warehouse, on the basis of an Excel spreadsheet.   
Recalculating …
The calculation of the shortest route is performed automatically in the background when the order is started at a mobile workstation. The warehouse picker receives the order with the sequence of items with regard to the properties of reserved locations where the stock for collection is located. If, for instance, the picker jumps the line and enters a randomly selected location, the PathFinder will recalculate the shortest possible path from the current location to the next location.  
A 16.4% reduction in picking paths recorded in the first month
At the beginning of this year, PathFinder was implemented in Atlas WMS in the company ExtraLux. At ExtraLux, picking begins with the issuing order, which Atlas WMS receives from the ERP system. The dispatcher reviews the order and releases it for processing in the automation module – Autostart. The latter then triggers the PathFinder module, which calculates the shortest picking path and sends the data back to Autostart. Autostart automatically allocates the order to the picker with the least work. The picker collects item by item, and then order by order, with PathFinder leading him/her around the warehouse following the mathematically shortest path. 
After the first month of PathFinder's operation in ExtraLux, the picking path suggested by Atlas WMS was 138.3 km shorter than the warehouse's previous picking path, representing a reduction of 16.4%.
Would you like to find out more?
For additional information please contact us.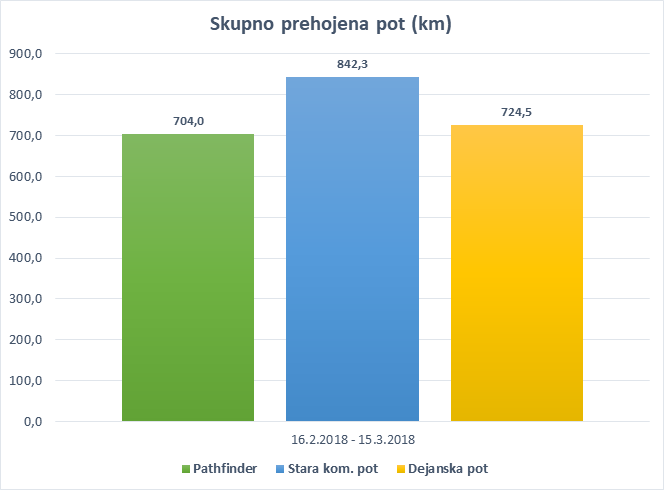 Back