Surveillance of an Automated High-Rack Warehouse in Your Pocket
06. 06. 2019
The Atlas WMS Pocket mobile application ensures better use of the operators' time, while also enabling 24-hour surveillance over the operation of an automated high-rack warehouse. This app will give you an overview of the status of the warehouse at all times, even when you are not physically present in the warehouse. If an error occurs, the operators will be able to intervene in a timely and efficient manner.  
When companies store a large number of palettes with high flow, they usually use automated high-rack warehouses. Several devices ensure that the warehouses operate properly – from transport systems and trolleys, to high-rack lifts. An automated high-rack warehouse does not require operator intervention from the receipt of material in the warehouse to its dispatch, as all material movements are performed automatically based on the needs. Such systems often continue to operate at night under the surveillance of an operator or warehouse manager. If a system is reliable and operates at a normal load, errors rarely occur. This means that, for at least 90% of the time, there is no need for an operator to be present – the operator only sits and waits for any necessary intervention when an error occurs in one of the devices.
Efficient Error Warning That Saves Time
With the Atlas WMS Pocket solution you can set your mind at ease and leave the automated warehouse to operate by itself without the constant presence of an operator. Atlas WMS Pocket is a mobile application that works as a system for alerts and for displaying urgent information, such as:
device and automated process status;
workflow;
incidents in the warehouse that require attention.
Thus, the operator is informed about the status of the warehouse without having to be physically present in it, and in the case of any errors the app notifies the real operators so that they can quickly eliminate any standstills.
Always under Control, Always at Hand
The Atlas WMS Pocket mobile app can be easily installed on the operator's smartphone, which communicates with the Atlas server. In the event of an incident, such as a device failure due to an error, the operator receives voice and visual alerts. In this way, the operator can, at any time, intervene remotely in a second or head for the warehouse.
Would you like to find out more?
For additional information call our sales department, T: +386 1 583 8017, or send an email: info@epilog.net.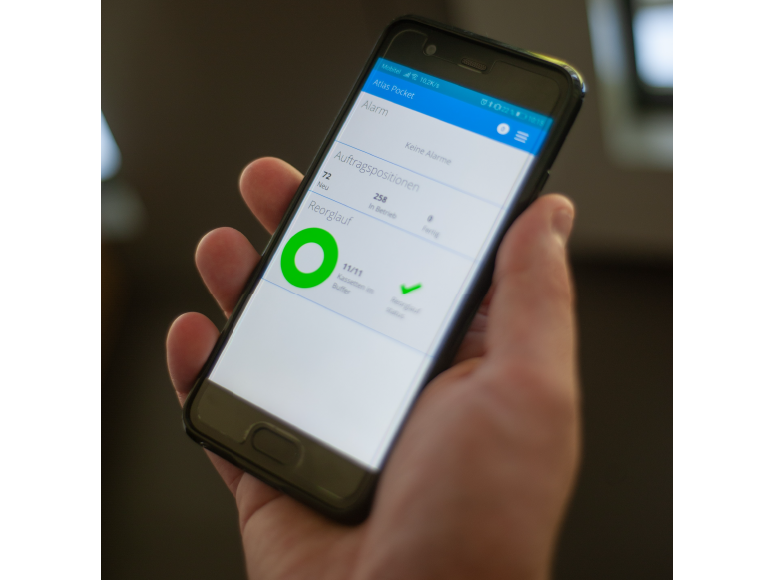 Back