Atlas WMS supports Sapa's growth aspirations
09. 12. 2016
Sapa Building Systems is one of the largest suppliers of aluminium building systems in Europe and is part of the Norwegian group Sapa. It has subsidiaries in 20 countries worldwide and is recognized as one of the leading European manufacturers of aluminium building solutions.
A large scope of operations usually brings about many challenges. Sapa Building Systems Ltd in Tewkesbury (UK) were faced with such challenges when they aspired to optimise the operation of their warehouses and processes. If, at the very beginning, there was still a hint of doubt on the part of our client about our system and operations, it disappeared practically immediately. In their own words, "When selecting a supplier, there are always concerns about how we are going to get along and whether we would be able to establish a long-term partnership. Very soon our fears subsided as Epilog's team proved that they are experts in warehouse operations, that they are proactive towards work, and are able to find solutions to problems in an innovative way. They understand operational requirements and offer the client even more than what was agreed. They were very patient and resourceful throughout the process. And last but not least, they adapted to Sapa's way of work in no time!"
How? By introducing the Atlas WMS system, we have created substantial additional savings in time and money: now Sapa can ensure the traceability of stock, the movement of forklifts has been optimised, the number of pickings of material has been reduced through consolidation, and all paper-based working methods have been eliminated.
Even though Atlas WMS is, in essence, a warehouse management system, we have expanded its application for Sapa Building Systems Ltd. Thus, we fully supported their rolling line process, including the supply and use of material, as well as the handling of products and offcuts. In addition, our Atlas WMS system manages the supply of material for the kit production necessary for the assembly of end products and the delivery of finished kits back to the warehouse.
The picking of material was organized and adjusted depending on the type of material, warehousing type and location (customer or production). The picking process can also depend on priorities on the level of the order item, the shipping date, the route and other criteria, making the operations more transparent and enabling the more efficient organisation of work.
Forklift drivers now have an overview of the requested movements and their order of priority, as defined by the warehouse manager. The Hubtex multidirectional side loader ensures movement optimisation in horizontal racking and organises forklift movements into efficient combinations, resulting in minimizing forklift side/aisle movement changes and other time-consuming movements.
The vertical carousel with accessories, working according to the 'goods-to-person' principle, is integrated into Atlas WMS using a TCP/IP interface and external displays with additional information needed for picking processes. In order to reduce the number of incorrect deliveries, Atlas WMS fully manages the shipping area with containers on locations and controls packages and stillages until they are loaded on the truck. With Atlas WMS Dashboard, a web system for the visualisation of key indicators such as total stock, turnover, performance in picks/hour, etc., the current situation in the warehouse can easily be tracked.
Our British mission was successfully accomplished, which is also reflected in the reaction of the satisfied client, Nigel Eley, Operations Director at Sapa, "Since Atlas WMS is implemented we have seen a benefit in stock accuracy, material flow has improved significantly, as well as stock accuracy at location level. We now have a system in place that will support Sapa in its growth aspirations!"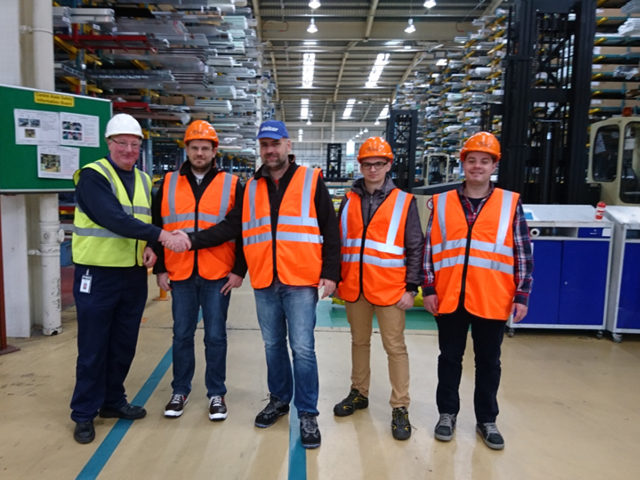 Back