Atlas Care
In order to ensure the fastest and most efficient possible elimination of system faults, we provide a service called Atlas Care.
Proactive service within a service
Atlas Care is more than support, it is a "service within a service" with which we take constant care of the system implemented. We do not merely react to potential problems and faults, but rather we try to foresee and prevent them in time.

Our goal is to minimize the potential downtime of a system and to achieve higher productivity
A special integrated module continually monitors the system's operation. In the case of any deviations an alarm sounds immediately. In addition to that, the system also features other mechanisms that detect problems as they occur, enabling us to eliminate any faults at once.

The shortest response time possible
The characteristic we are particularly known for in providing support is our response time. Our declared response time is one hour, while the typical response time to potential faults in our field of work is several hours. However, the actual response time by Epilog in the majority of cases is — right away.

"Our average response time is always only a couple of minutes; and the majority of faults are eliminated in half an hour at the most. For us, it is important above all that at a given moment we do our best and do what can be done to make the downtime of a client's system and working process as short as possible," stresses Luka Ivkić, Head of the Customer Support Department with Epilog.

Always with you
We are there with you at all times despite the fact that physically we never need to be present, as the system can be managed via remote access. For Atlas Care support service even operations outside usual working times, i.e., from 9 am to 5 pm, or in different time zones, pose no obstacles, as we are available 24 hours a day, 7 days a week.
Read the Atlas Care Flyer in PDF format (1.7 Mb)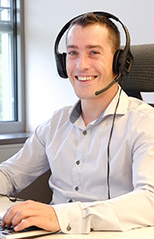 Tadej Vretič, Customer support
Would you like to find out more?
For additional information call our customer support department, T: +386 1 583 8009, or send an email: Customer support.