What is Atlas CutITsmart?
THE FIRST INTEGRATED PERFORMANCE OPTIMISATION SOFTWARE
Atlas CutITsmart is an integrated AtlasWMS module that extends the operation of the WMS system to the cutting of material. This is the only optimisation software of its kind integrated into a WMS system and thus represents a unique innovation and the best answer to the question as to how more savings can be generated in material, time and work.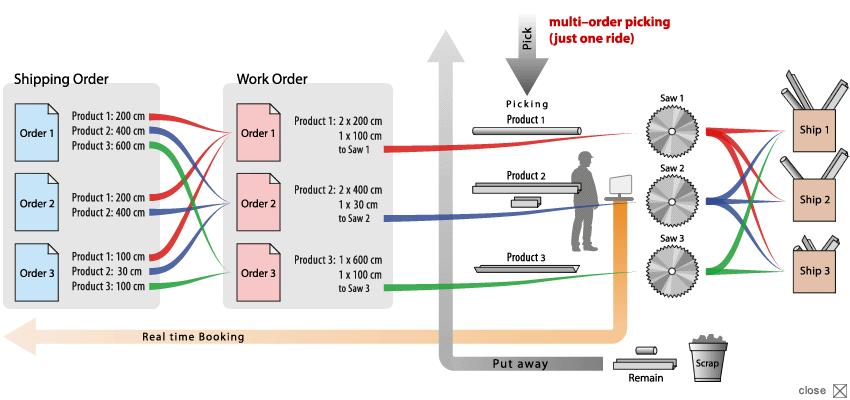 With CutITsmart You will optimise:
Material utilisation and stock
Movements in the logistics process
Work and operation
Utilisation and load on resources (cutting saws)
Time required for cutting
Costs
Shipping of the cut pieces

The Software is available in two versions:


Basic version — Atlas CutITsmart : Through optimisation to material savings
Atlas CutITsmart takes into account and merges several orders at a time. Thus, in addition to ensuring excellent material optimisation it also significantly reduces the number of logistics movements.
Based on selected optimisation parameters and with regard to the current stock, the software automatically suggests the optimum cutting plan and generates working tasks. The user can also add tasks to the suggested cutting plan.
Thus, the optimisation plan can be fully automatic — Atlas CutITsmart itself generates a cutting work plan on the basis of orders received, or manual — the user determines which parameters and orders the software should take into account in optimising and generating the work plan.


Upgraded version — Atlas CutITsmart PPS: Time and cost management
Apart from the optimum cutting plan, Atlas CutITsmart PPS (Production Planning System) also automatically distributes tasks among different saws and calculates the anticipated cutting time. Since it records single steps in the working process, the system also enables very accurate cost analysis. In addition to this, it also takes account of the expendable supplies and materials used in cutting and can therefore calculate the entire cutting cost.
Its ergonomic graphic interface makes it possible to move single tasks from one workplace to another.

In practice, cutting process optimisation requires several optimisation procedures while resolving some specific requirements.
Atlas CutITsmart PPS can optimise processes with regard to different parameters:
Time required for cutting,
Utilisation of material,
Costs of cutting.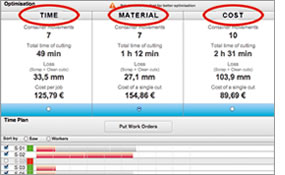 Would you like to find out more?
For additional information call our sales department, T: +386 1 583 8017, or send an email: Epilog's sales department!
Back