Towards Optimal Utilisation of a High-Rack Warehouse with Visualisation
10. 12. 2018
High-rack locations in a warehouse can be optimised with the help of a colour scale, which is an option enabled by the so-called high-rack locations optimiser, a module in the Atlas WMS solution. This also increases the utilisation of space.
Often in a warehouse it can be observed that products with a low frequency of movements are stored in more easily accessible high-rack locations, while products with a high frequency are stored in less accessible places. What does this mean for a company? Lower utilisation of warehouse space and greater use of time for all warehousing operations.
The high-rack locations optimiser, a module built into Atlas WMS, enables the visualisation of the actual utilisation rate of high-rack locations. In this way, it is simple to identify both locations that are not optimally used and products that are stored in a non-optimal way. In addition, the module also suggests possible adaptation of warehousing rules in problematic locations.
What does the high-rack location optimiser tell you?
This tool is easy to use. You can quickly detect the non-optimal use of locations using a colour scale that can be set up according to your wishes, needs or limitations.
Locations are visually depicted in a coordinate system on a plane, displaying information on the number of picks in the selected time period (the figure in a cell). At the same time, the display also shows whether a certain location already has a specific article, which is marked with an asterisk (*).
The colour of the cell indicates whether a certain location is optimally utilised. In the example on the side, the scheme shows picking locations close to the ground. Green cells show that the location is set up and used optimally, while orange or red cells notify the user that the situation at the location is not optimal.
In addition to the visual tool, the module can provide the information in a table that can be exported to Excel. Information on the stock situation in high-rack locations is also provided.
Would you like to find out more?
For additional information call our sales department, T: +386 1 583 8017, or send an email: info@epilog.net.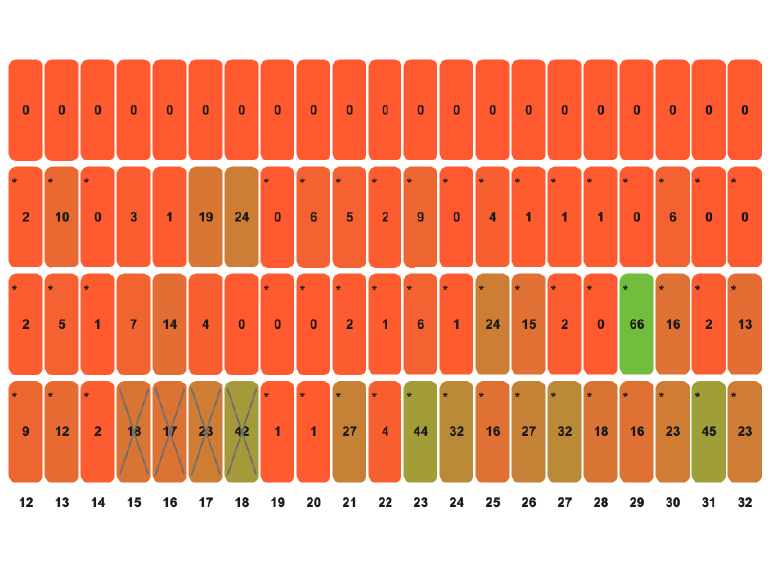 Visualisation of use of picking location
Back