Successful digitalisation of Aceros Levinson in Mexico
01. 08. 2017
For the first time, Epilog has flown across the ocean with our solutions: to Aceros Levinson, the largest distributor of special steels, metals and engineering plastics in Mexico. In this company, which has been operating in this area for over 30 years and employs more than 200 workers, we successfully installed the Atlas WMS system in March 2017.
The company was looking for a system that would make it possible to trace their stock in real time. With Atlas WMS, in their warehouses they now have a complete and accurate overview of the current stock of individual pieces of material, as well as their sizes and location. By the beginning of 2018, they will have installed the system in a further eight warehouses around the country. 
Better Organised for Easier Sales 
The deployment of the Atlas WMS system has yet another positive effect: the company's warehouses will be much better organised. Until now, sawing residues (offcuts) have posed a major challenge, as sometimes the pieces are too small to be kept in warehouses or too large to be discarded. Atlas WMS enables accurate recording and marking of all of these pieces, making the selling of individual pieces much easier.
Aceros Levinson was particularly interested in service support for material for the oil and gas industry. Taking into account their needs, we developed a special module for value-added services that will enable the entering of additional services on work orders, as well as monitoring stock and the condition of the material.
Mobile Application for Delivery Information in Real Time
In the picking process of the material for dispatch, Aceros Levinson now weigh the material and record its weight. The system forwards this information to the ERP system. In this way, they will avoid overcharging or undercharging their customers due to differences in the weight of the pieces. They were delighted with yet another thing: Epilog developed a mobile application AtlasDroid for smart phones with the Android operating system especially for Aceros Levinson, which makes it possible to obtain information in real time on confirmation of the delivery of the material to the customer.  
No More Work Orders on Paper
Before Atlas WMS was introduced in the warehouse, the staff on the sawing machines only used paper work orders. As there was not enough space next to the saws to set up computers, we had to find a different solution: we had to remake the mask for recording in such a way that it could be used on tablets, and we added hand-held scanners for reading bar codes. The sawing personnel finally got rid of paper work orders. The new system provides them with more information required for their work, and the warehouse manager has a much better overview, at any time, of how many work orders have already been completed and how many are still open. The company has undergone successful digitalisation.
A Bright Future with Atlas WMS
Aceros Levinson is thrilled with the new system. "In the four short months of our cooperation with Epilog, we have seen a substantial improvement in our stock controls. We are now not only able to see how many kilograms we have in stock, but also what they mean in terms of number of pieces and dimensions. In the past, our warehouse operators needed to have a good personal understanding of where each product was located in order to find it; with Atlas WMS we have the exact location of each piece of stock, considerably reducing the time needed to find any product."
David Levinson, Administrative Director, also added that they see a bright future with Atlas WMS, as it has helped them to automate processes, improve lead times, shorten both the production time and the time necessary for the delivery to customers, and improve their inter-warehouses logistics.
Their satisfaction is also the result of successful cooperation in the implementation of solutions, during which, amongst other things, we had to overcome a seven-hour time difference, as well as intercontinental differences. We not only organised workshops for their employees, but also dexc testing and training, and we were constantly in touch via video calls.
Additional Business Analytics
What is the next step? Aceros Levinson has already expressed a desire for additional business analytics, i.e., the transfer of data from the Atlas WMS database to Google Data Studio, where they can be used for additional analyses. And Epilog will continue developing the AtlasDroid mobile application for mobile phones.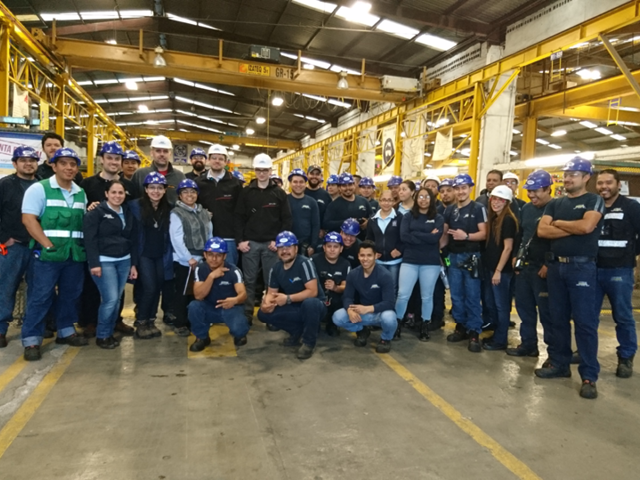 Back